Swing Time! Florida's Premier Swing Dance Events
---
March 14th, 2020: All Swing Time events, including dances and classes, are suspended until further notice, due to our venues temporarily closing. Check back to this website on March 31st for another update.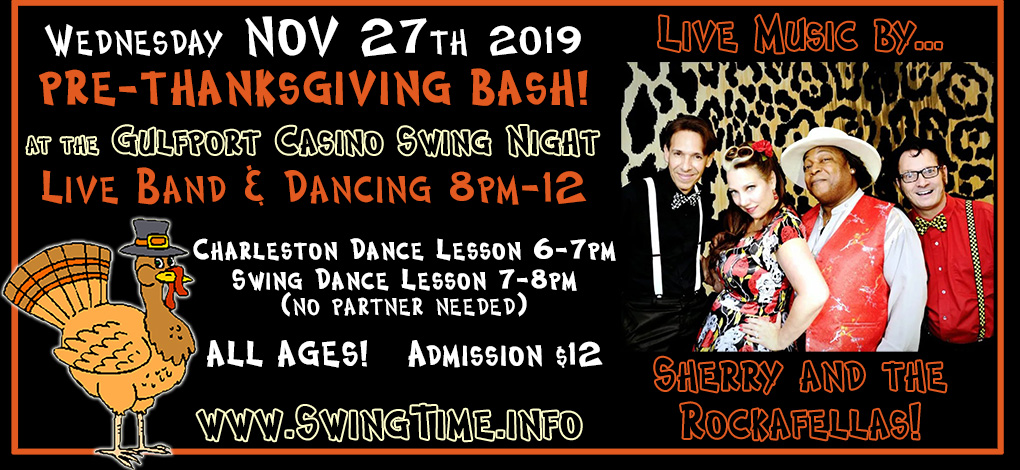 With Thanksgiving on Thursday, the weekend starts Wednesday night, when Swing Time hosts a special evening of live music and swing dancing! Wednesday, November 27th, 2019, join in celebration at the Gulfport Casino Swing Night for Swing Time's Pre-Thanksgiving Bash! This huge swing-dance party is always one of the biggest Wednesday Swing Nights of the year, attracting not just locals but out-of-towners who are home for the holidays. The Bash features live & swingin' music by Sherry & the Rockafellas! The evening starts with a Charleston Dance Lesson 6-7pm, followed by Swing Dance Lesson 7-8pm, then Live Music & Dancing 8pm-12. Admission's just $12 (get your tickets at the door), all ages are welcome, no partner is needed, and it all happens in the spectacular waterfront ballroom of the Gulfport Casino!
One of Florida's hottest rockabilly bands, Sherry & the Rockafellas draw upon influences including Wanda Jackson, Imelda May, Ella Mae Morse, Wynona Carr, Elvis Presley, Johnny Burnette, Carl Perkins, and more, to bring you the good times of the '50's, where sock hops, swing dancing and cadillacs were all the rave, as people boogied to rock'n'roll, blues & swing! This band varies the tempos and the beats to satisy your dancing feet!
---
© All contents of this web site (www.SwingTime.info) except where otherwise stated are Copyright 2000-2020 Swing Time with all rights reserved
---