Swing Time! Florida's Premier Swing Dance Events
---
GULFPORT CASINO BALLROOM — MAP & DIRECTIONS

The Gulfport Casino Ballroom is located in the St. Petersburg, Florida area at 5500 Shore Blvd S, Gulfport, FL 33707.

From the north, take I-275 S to St Pete's 22nd Ave S exit (Exit #19) and then turn right. From the south, take I-275 N to St Pete's 26th Ave S exit (Exit #18); turn left, turn right at the light (34th St, also known as US Hwy 19), then left at the next light (22nd Ave S).

Once you're on 22nd Ave S (which is also known as Gulfport Blvd), proceed west. The numbered streets you pass will be increasing. You'll pass 40th St; you'll pass 49th St; you'll pass 50th, 51st, ... 54th. Once you pass 55th St, look immediately to your left and turn left onto Beach Blvd. Proceed south on Beach Blvd and at the fork, stay to the left but do not turn; just a few feet to your left you'll see where Beach Blvd continues south. Keep going south on Beach Blvd until the street ends at the Gulfport Casino, located on the waterfront.

Turn to your right for free street parking. Also to the right is plenty of free parking in Gulfport's municipal beachfront parking lots, located all across the south side of Shore Blvd from the Gulfport Casino to the Recreation Center at the end of Shore Blvd.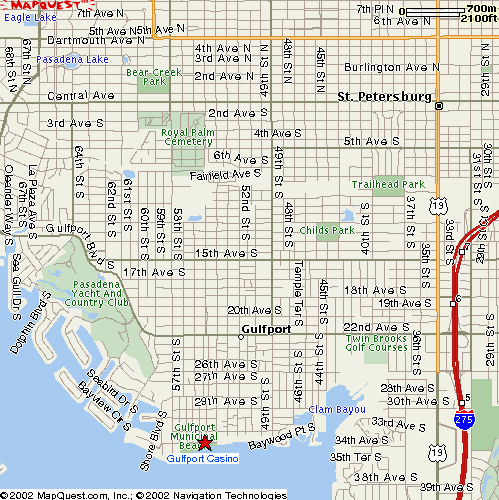 ---
© All contents of this web site (www.SwingTime.info) except where otherwise stated are Copyright 2000-2023 Swing Time with all rights reserved
---