Swing Time! Florida's Premier Swing Dance Events
---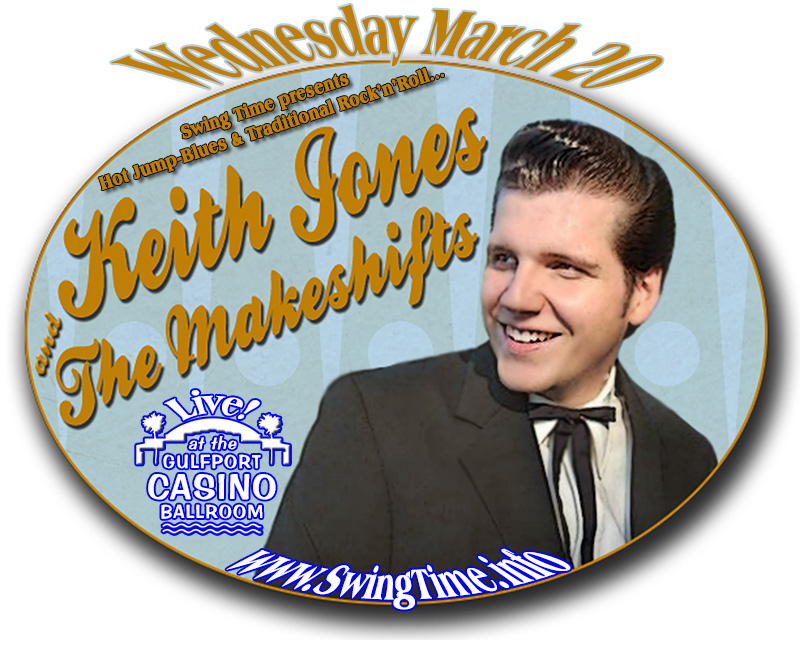 Wednesday, March 20th, 2019, Swing Time presents Cincinnati band, Keith Jones & the Makeshifts live at the Gulfport Casino Ballroom! This all-ages dance includes two free dance lessons (no partner needed), a Blues-Dance Lesson 6-7pm and a Swing-Dance Lesson 7-8pm, followed by Live Music & Dancing 8-11pm. Doors open 5:45pm. Admission's just $12; get your tickets at the door (cash only; no free passes, birthday passes, or student specials accepted on band nights).
Keith Jones & the Makeshifts are one of the best musical groups to ever headline the Gulfport Casino. This Cincinnati band swings hot jump-blues and traditional rock'n'roll for your dancing pleasure, and they've been a huge hit with dancers every time they've played for us before. In fact, the band currently holds the Wednesday Swing Night attendance record!
Gulfport Casino is one of the world's best ballrooms, offering up social dance excitement in a picturesque beachfront setting. It provides a smoke-free atmosphere and a full bar. The Gulfport Casino Swing Night is one of the top swing dances in the U.S.A., attracting hundreds of dancers every Wednesday! The Gulfport Casino Ballroom is located in the St. Petersburg, Florida area at 5500 Shore Blvd. S., Gulfport, FL 33707.
---
© All contents of this web site (www.SwingTime.info) except where otherwise stated are Copyright 2000-2019 Swing Time with all rights reserved
---