BALBOA I
Two Saturday Boot Camp Edition
Saturdays, Feb 3rd & Feb 10th, 2018, 2:30-6:30pm
at Simone Salsa
8336 W. Hillsborough Ave., Tampa, FL 33615

This Bootcamp is equivalent to Swing Time's 6-Week Balboa I course, offered here in a 2-week Saturday-afternoon format instead. Take Balboa I Bootcamp and you'll be ready for the Balboa 2 course. This Bootcamp also comes with 3 free repeats! That means you can retake Balboa I for free whenever it's offered, either in 6-week hourly format or 2-week bootcamp format. This is your opportunity to master Balboa fundamentals and qualify yourself for Balboa 2! Balboa I Bootcamp is 8 hours total, 4 hours per Saturday, over two consecutive Saturdays. Each Saturday covers three one-hour classes, with breaks in between classes, and extra practice time at the end.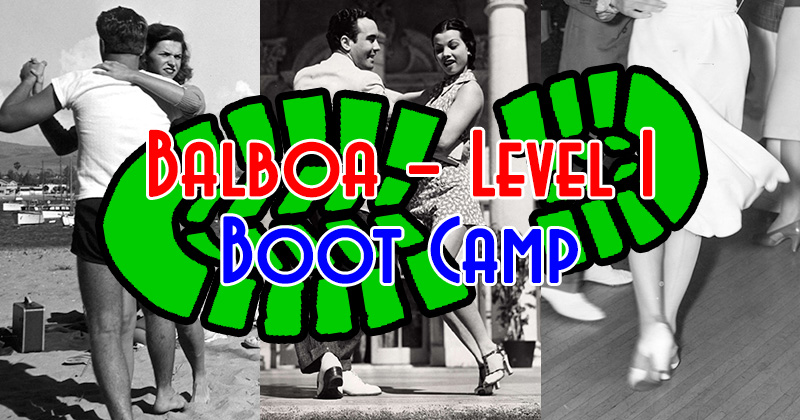 This course takes you step-by-step through the fundamental moves of Balboa. You'll learn the Downhold Basic, Uphold Basic, Ad Libs, Scoots, Paddles, Serpentines, Come Arounds, Lollies, Throw Outs & Returns, Outs & Ins, Lunges & Crossovers, plus combinations and variations. You'll gain leading and following skills, and comfort dancing the Balboa through six hours of instruction, drills, and practice. Learn to skillfully dance this course's material, and you'll be ready for the Intermediate Level at Balboa events worldwide!
Balboa is currently the top dance craze in the swing-dance world, with weekends, competitions, workshops and events specifically devoted to Balboa springing up across the globe. Balboa is a fun, exciting yet relaxed, dancer's dance, with footwork, leading-following, and patterns that range from simple to intricate. The basics are easy to learn, yet the dance has enough depth and complexity so that dancers can progress and enjoy years of entertainment. Many songs you hear, not just at swing dances but out in the general public, are meant for Balboa.
The Balboa dance got its name from Balboa Island (in the Los Angeles area) and the Balboa Pavilion where the dance originated in the 1930's. Due to the overwhelming popularity of big-band swing music, dance halls such as the Balboa Pavilion became very crowded. So dancers invented the Balboa, a dance they could dance to swing music from slow to fast (to very fast) without expending a lot of energy or taking up a lot of space. The original Balboa dancers of the 1930's passed the dance on to a new generation of dance instructors, who in turn are now teaching it to the current generation of Balboa dancers. With the contributions of modern Balboa dancers, Balboa has continued to evolve to this day. In fact, Balboa has exploded in worldwide popularity in recent years!
PREREQUISITES: None. Whether you're new to Balboa or have taken many classes, try this course out — we'll get you comfortable dancing the Balboa.
INSTRUCTOR: Tom Blair (Click for instructor bio.)
PARTNERS: No partner is needed. People are welcome either with or without a partner. To maximize learning, all participants will be required to rotate and to dance with the entire class.
TUITION / FREE REPETITIONS: Tuition is $70 for the 6-hour course. Please bring cash or check to the first week of class. Tuition includes all six 60-minute sessions, six hours total of instruction, plus breaks and practice time. It also includes up to three free repetitions of this course! That's right....If you don't master the material the first time around, or if you happen to miss any material, you may re-register and re-take Balboa I up to three times at no additional cost! Our foremost goal is for you to become a great dancer. Offering free repetitions is the best way to accomplish that goal, because in the dance world, repetition equals learning and improvement. This free-repetition offer is valid as long as this same course is still being offered.
REGISTRATION: We encourage you to register in advance (no payment required). Click "register in advance" link, and you'll be taken to the Simone Salsa website. There, click "Register Here" link under Balboa / Level 1. Then fill out the form and click the "Register" button. You can also register the first day of class at the studio, but please arrive early!
WHEN TO ARRIVE: All classes start and finish promptly at the scheduled time. Please arrive early for each class, and 15 minutes early for the first class. This will give you time to warm up prior to the class, and will ensure that you don't miss the important material that starts each class.
WHAT TO BRING: Please bring or wear comfortable clothes, bottled water, snacks, and dance shoes. Shoes should allow you to pivot freely. Leather-bottom or suede-bottom shoes are best. For ladies, heels work great for Balboa (but are optional for this course).
MORE INFO: Please contact us (at least 24 hours in advance) if you have questions or for more info.