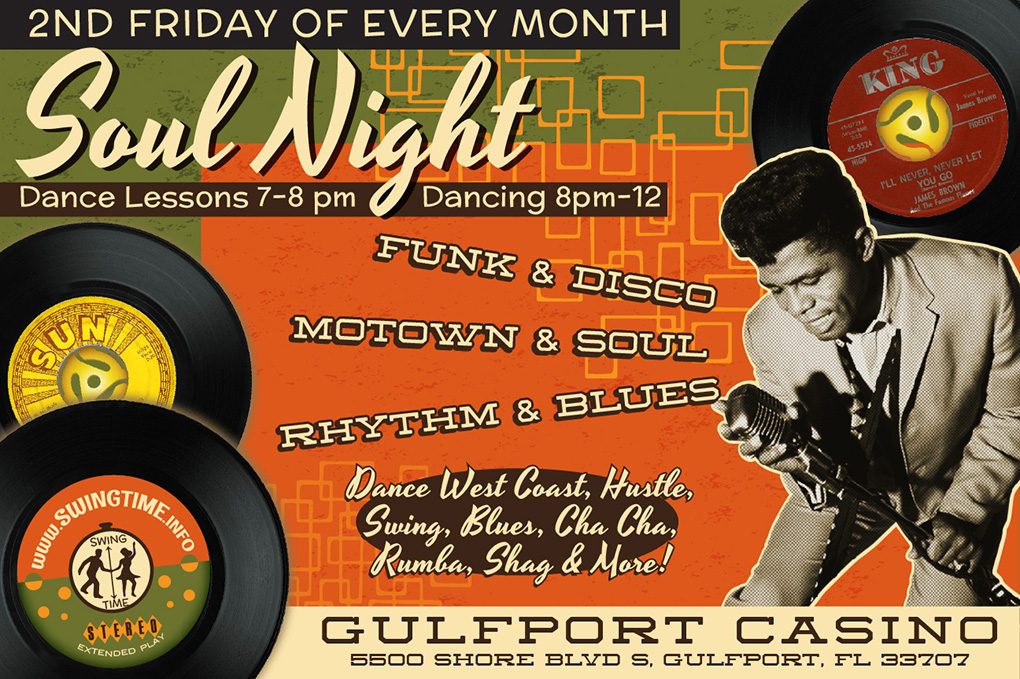 SOUL NIGHT FRIDAY FEBRUARY 8TH
Friday, February 8th (2019) is Soul Night at the Gulfport Casino, happening the second Friday of every month! Dance to the best in Funk, Soul, Disco, Motown, Rhythm & Blues, with an exciting mix of retro and modern dance music, great for a variety of partner dances (Hustle, Swing, West-Coast, Blues, Stepping, Cha Cha, Rumba, Shag, Fusion, etc), plus group, line, and freestyle dancing too! Music & Dancing happens 8pm-midnight, preceded by a Dance Lesson 7-8pm. Just $10 includes the dance AND the lesson. Students get $6 admission if they show up by 7:00pm and take the lesson.
DANCE LESSON 7-8PM
February 8th's lesson is Hustle
Special Guest Instructor Tina Marie Price
MUSIC & DANCING 8PM-12

All Ages No Partners Needed Doors Open 6:45pm Door Prizes Cash Bar
Lesson Info — Swing Time welcomes special guest instructor, Tina Marie Price, who'll teach the 7pm Hustle lesson. Tina is an award-winning competitor, workshop instructor, and competition judge at Hustle and West-Coast Swing events across the USA. Tina has been dancing the Hustle for over 30 years and is originally from Cleveland Ohio, where she was a leader of the Cleveland Akron Swing & Hustle Club.

The Gulfport Casino Ballroom is one of the world's top dance destinations, offering social dance excitement in a picturesque beachfront setting. It features a rich history, a grand dance floor, a full bar, a smoke-free atmosphere, and free parking. The Gulfport Casino Ballroom is located in the St. Petersburg, Florida area at 5500 Shore Blvd. S., Gulfport, FL 33707.