Swing Time! Florida's Premier Swing Dance Events
---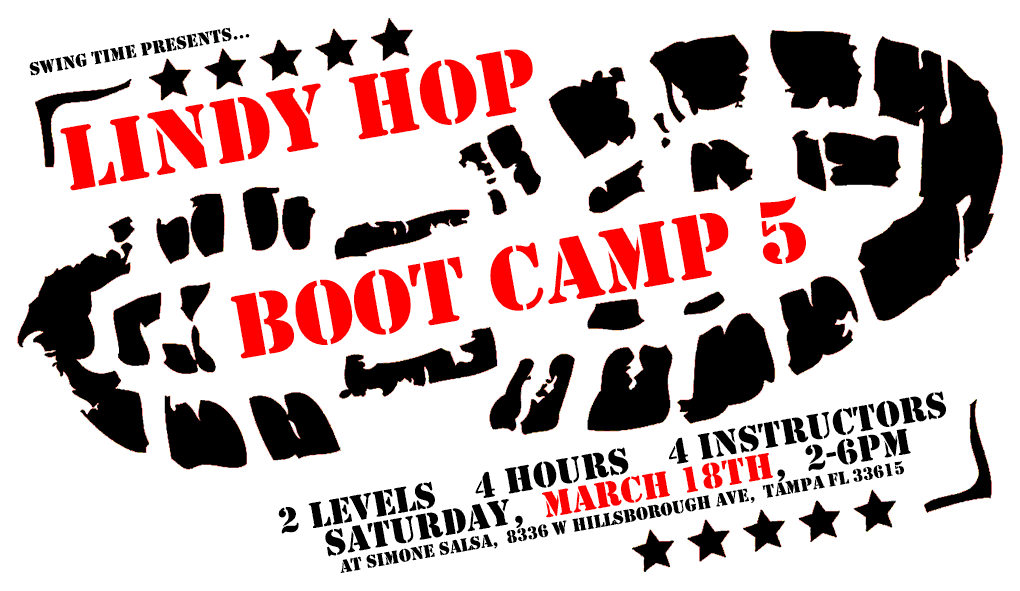 Get ready for Swing Time's Lindy Hop Boot Camp, an intensive workshop that gives you the benefit of an entire four-week Lindy Hop course, all in one afternoon! Two levels are offered, with instructors determining your appropriate level. Lindy Hop Boot Camp happens Saturday, March 18th, 2-6pm, at Simone Salsa, 8336 W Hillsborough Ave in Tampa.
Level 1 (Beginning) — Learn the Lindy Hop! Level 1 is for dancers with little-to-no Lindy Hop experience, and for dancers who want to master the basics. Level 1 features four hours of intensive instruction, drills, and practice, taking you step by step through the fundamental moves and principles of Lindy Hop. Level 1 is taught by Sam & Morgan.
Level 2 (Intermediate) — Advance & Improve Your Lindy Hop! Level 2 will focus on refining technique and developing your unique voice through musicality. Learn rhythm and footwork variations, gain new spinning and turning techniques, and develop a more thorough understanding of macro-musicality. In summary, you'll learn to dance better, and cooler, and gooder...yes, gooder ;) Level 2 is for dancers already proficient at Swing-Outs and other Lindy Hop fundamentals. Level 2 is taught by Tom & Aryn.
Lindy Hop Boot Camp is followed by the Saturday Swing Lindy Hop & Balboa dance that evening, which is included in the price of your Boot Camp registration. Boot Camp registration is $35 at the door (Day of Event).
Want to practice your Lindy Hop? All Lindy Hop Boot Camp participants get free admission to that night's Saturday Swing Lindy Hop & Balboa dance at Simone Salsa. Saturday Swing is the only dance in Tampa Bay that focuses exclusively on Lindy Hop & Balboa. That means you can dance these dances all night long, to every song.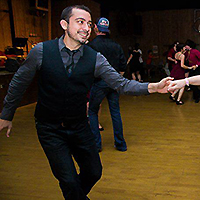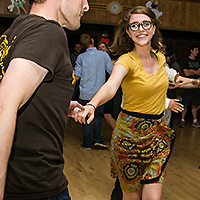 Instructor, Tom Blair, is a cornerstone of Tampa Bay's Lindy Hop and Balboa dance scenes. He organized The Lindy Connection dances and is a regular teacher and DJ at events across the area. He's traveled and dabbled in competition, but his main focus is sharing his love of social dancing to swinging jazz music. He believes that there's something unique and amazing that happens when two people transform these sounds into movement, and wishes to share this feeling with everyone.
Instructor, Aryn Kelly Rathbone, is a long-time lover of jazz who first became enamored with swing dancing in 2012 when she realized it meant she could dance to Duke Ellington; and she hasn't looked back. In the classroom, she values technique-oriented instruction for followers and leaders, empowering students to own their learning experiences. Aryn has attended numerous national dance events for both Lindy Hop and Balboa. She has competed and placed in several Southeast regional events, including Bal-Ast Off!, Southern Swing Challenge, and Atlanta Varsity Showdown. In addition to studying and teaching dance, Aryn also enjoys DJing for dancers.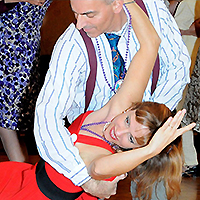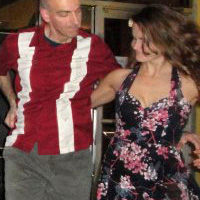 Instructor, Sam Mahfoud, has been dancing and teaching swing dancing for over 18 years, including Lindy Hop and Balboa, all the while developing and refining a step-by-step curriculum in each dance, with proven success in getting dancers dancing both Lindy Hop and Balboa. Sam's an innovator who was instrumental in starting and building Tampa Bay's swing scene from scratch. Accomplishments include founding both Swing Gang (1998) and Swing Time (2000), sponsoring Tampa Bay's first-ever Lindy Hop dances (1999), first Lindy Hop Dance Teams (2009, Hit That Jive & Swing Time Dancers), first Blues dance (2010), first Fusion dances (2014), and first two Lindy Exchanges (2013 & 2014). He's taught tens of thousands to dance over the last 18 years, at over 1000 swing dances, special events, festivals, cruises, and dance classes. In fact, many of Tampa Bay's elite dancers and instructors have passed through the Swing Time ranks at one time or another. Sam has traveled all over the USA and Canada, learning, dancing, teaching, and occasionally competing. He's studied with most of the world's top swing dancers, Lindy Hoppers, and Balboa dancers, including his greatest inspirations, original Whitey's Lindy Hoppers, Norma Miller and the late great Frankie Manning.
SCHEDULE:
1:30- 2:00pm – Doors Open, Registration, Warm Up
2:00- 6:00pm – Boot Camp (includes breaks & practice time)
6:00- 8:00pm – Dinner Break
8:00- 9:00pm – Saturday Swing Dance Lesson (optional)
9:00-11:59pm – Saturday Swing Lindy Hop & Balboa Dance
WHEN TO ARRIVE: Lindy Hop Boot Camp starts promptly at the scheduled time. Please arrive at least 15 minutes early. This will give you time to check in and warm up, and will ensure that you don't miss the important material at the beginning.
WHAT TO BRING: Please bring or wear comfortable clothes, bottled water, snacks, and swing-dance shoes such as oxfords, dance sneakers, etc. (Heels are NOT recommended for Lindy Hop.) Shoes should allow you to pivot freely. Leather-bottom or suede-bottom shoes are best.
PARTNERS: No partner is needed. People are welcome to sign up either with or without a partner. To maximize learning, all participants will be required to rotate and to dance with a variety of partners.
MORE INFO: Please contact us (at least 24 hours in advance) if you have questions or for more info.
---
© All contents of this web site (www.SwingTime.info) except where otherwise stated are Copyright 2000-2019 Swing Time with all rights reserved
---