Swing Time! Florida's Premier Swing Dance Events
---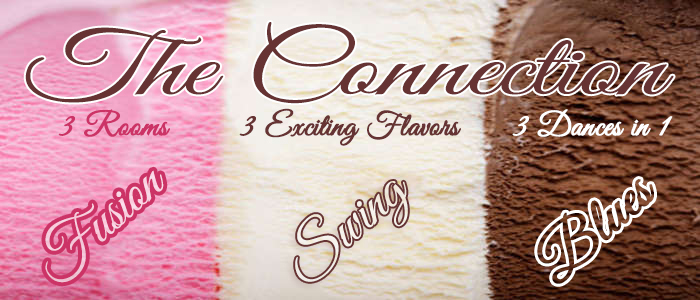 Saturday, June 30th (2018), The Connection (Swing, Blues, & Fusion) returns to Simone Salsa studio in Tampa. The Connection is a brand new dance event featuring 3 simultaneous rooms of music & dancing. One $10 admission gets you into all three dances! Doors open 7:45pm. Lessons start 8pm, and are free with admission to the dance. Dancing starts 9pm. ...and rumor has it that ice cream will be served. ☺
Join us 8-9pm for a special Cha Cha / Lindy Fusion lesson led by Sam from Swing Time. Since Lindy Hop and Cha Cha have essentially the same footwork, we're going to take common Cha Cha patterns and swing them! We'll insert these Cha Cha patterns into Lindy Hop, dance them to swing music, and create some cool new swing moves in the process. We'll also go the other way, taking common Lindy Hop patterns, infusing them into Cha Cha to create new moves, and dancing them to modern music!
The night also includes a Blues Lesson, happening 9:30-10:00pm in the Blues Room.
Dancing starts 9:00pm in the Swing & Fusion Rooms, and 10:00pm in the Blues Room. Visit the Swing Room, run by Swing Time, to get your swing dances in; visit the Blues Room, run by The Gathering, to get your Blues dancing on; and visit the Fusion Room, run by Fuze-On Tampa Bay, where any style of dancing goes!
It all happens at Simone Salsa studio, 8336 W. Hillsborough Ave., Tampa, FL 33615. Simone Salsa's studio on Hillsborough Avenue features three rooms of awesome atmosphere, lighting, and sound, with large smooth hardwood dance floors! Parking — Simone Salsa has a big (and free) parking lot just a few feet from its entrance. Drinks & Food — You can BYO beverages and food to this venue. Bottled water and soft drinks are also available for purchase; they're in the kitchen's cooler; just drop a dollar per drink in the fishbowl.
---
© All contents of this web site (www.SwingTime.info) except where otherwise stated are Copyright 2000-2018 Swing Time with all rights reserved
---