Swing Time! Florida's Premier Swing Dance Events
---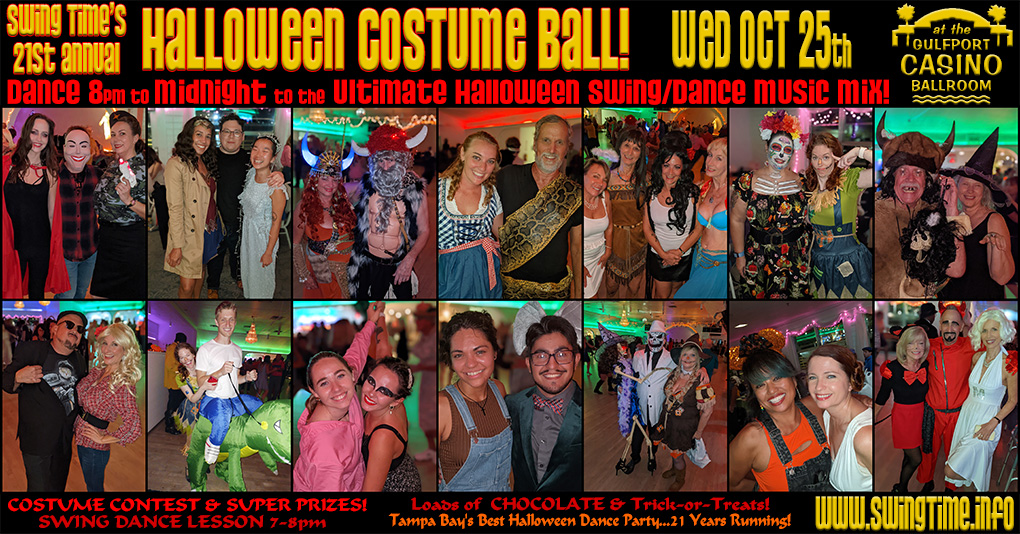 HALLOWEEN COSTUME BALL 10/25/2023
Wednesday, October 25th, 2023, put on your best costume and get ready to swing with all sorts of exciting characters! It's Swing Time's 21st Annual Halloween Costume Ball at the Gulfport Casino Swing Night! The Ball starts with a Swing Dance Lesson 7-8pm; no partner needed. Starting at 8pm, dance 'til the midnight hour to the Ultimate Halloween Swing/Dance Music Mix... that's right! — all Halloweeny music, all the way to midnight! The Halloween Costume Ball features a Costume Parade & Contest with lots of super prizes for the best costumes! (See categories below.) The Ball features loads of Chocolate, Candy, & Trick-or-Treats; Door Prizes; a Zombie Shim Sham; plus Special Halloween Decor & Atmosphere! Gulfport Casino's vintage waterfront grand ballroom is smoke-free and provides a full bar and free parking. Just $12 admission includes EVERYTHING, and all ages are welcome! Experience Tampa Bay's Best Halloween Dance Party... 21 years running!

Click for Photos from recent Halloween Costume Balls
Costume Contest — Prizes for:
Best (Overall)
Best Hollywood
Best Science Fiction
Best Disney/Cartoon
Best Superhero
Best Historical
Scariest
Funniest
Most Original
The Gulfport Casino Ballroom is one of the world's top dance destinations, offering social dance excitement in a picturesque beachfront setting. It features a rich history, a grand dance floor, a full bar, a smoke-free atmosphere, and free parking. The Gulfport Casino Ballroom is located in the St. Petersburg, Florida area at 5500 Shore Blvd. S., Gulfport, FL 33707.
Dance Lesson — Free with Admission Map & Directions
All photos on this page were taken at prior Halloween Costume Balls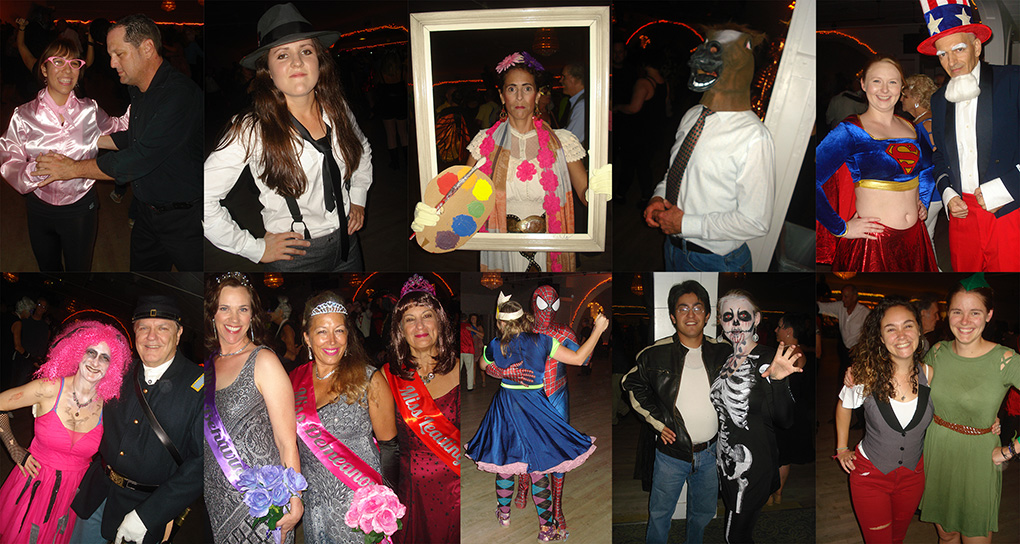 ---
© All contents of this web site (www.SwingTime.info) except where otherwise stated are Copyright 2000-2023 Swing Time with all rights reserved
---