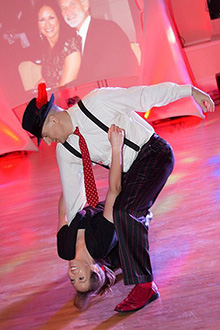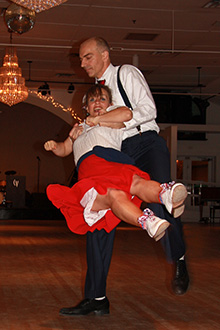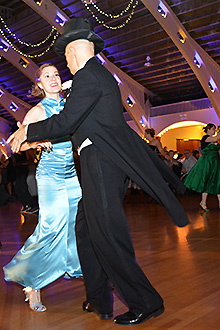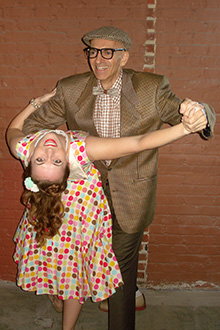 Our Approach & Philosophy: Swing Time brings an innovative and easy-to-learn approach to all levels & styles of swing — the same teaching approach that has made our intro classes the most popular in the state! We instill the fun, energy, excitement, and magic of dancing in every class we teach and in every event we produce. In addition to teaching people to dance, Swing Time's classes also emphasize social interaction and, most importantly, having fun! Whether you're dancing at a Swing Time event, or at a club, party, dance or concert... anywhere there's music, we want you to be able to dance to it. And we want your partner(s) to love dancing with you! The better your dancing, the more people will ask you to dance! Swing Time promotes a fun & friendly atmosphere at both our classes and our events. Our instructors break seemingly complex dance moves and dance principles into easy-to-digest pieces that you can easily learn. Our approach is based on years of dancing and teaching experience, it's innovative, and it works!
DANCE CLASSES — Click Here for Calendar
BOOK US — Dance Instructors & Dancers for Your Special Event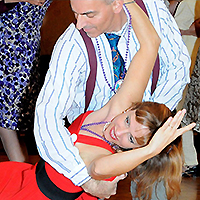 Instructor Bio: Sam has 20+ years of partner-dance experience, and is known as an accomplished all-around dancer. To the delight of his partners, he's able to improvise and create dances on the spot to whatever music or band is playing. Sam is an expert at the entire repertoire of swing dances, from East-Coast to Lindy Hop, Balboa, Charleston, Shim Sham, and more. He also enjoys crossing over into other dances, with experience ranging from Ballroom to Blues to Latin to Contra to Zydeco to Fusion! A skilled organizer and instructor, Sam has been organizing dances since 1997 and actively teaching swing dance since 1999. Sam's an innovator who was instrumental in starting and building Tampa Bay's swing scene from scratch. Accomplishments include founding both Swing Gang (1998) and Swing Time (2000), sponsoring Tampa Bay's first-ever Lindy Hop dances (1999), first Lindy Hop Dance Teams (2009, Hit That Jive & Swing Time Dancers), first Blues dance (2010), first Fusion dances (2014), and first two Lindy Exchanges (2013 & 2014). He's taught tens of thousands to dance over the last 17 years, at over 1000 swing dances, special events, festivals, cruises, and dance classes. In fact, many of Tampa Bay's elite dancers and instructors have passed through the Swing Time ranks at one time or another. Sam has traveled all over the USA and Canada, learning, dancing, teaching, and occasionally competing. Last year's travels included the Ultimate Lindy Hop Showdown (New Orleans), Montreal Swing Riot, Beantown Lindy Hop Camp (Boston), and All Balboa Weekend (Cleveland). He's studied with most of the world's top swing dancers, including his greatest inspirations, original Whitey's Lindy Hoppers, Norma Miller and the late great Frankie Manning. Sam has been instructing for Swing Time since the beginning, over fifteen years now!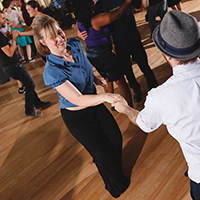 Instructor Bio: Teresa has loved dancing since the very first time someone spun her. Since she started swing dancing eight years ago, Teresa has lived and traveled across the USA, all the while learning and dancing Lindy Hop and Balboa, and teaching upon request...in places that include Los Angeles, Chicago, Las Vegas, Austin, New Orleans for one year, her former home in Phoenix, and last but not least, her new home in Tampa Bay! She enjoys sharing her dance experience and helping people become better dancers.
Special Guest Instructors — In addition to our main instructors above, Swing Time also brings in many special guest instructors to perform and to teach classes and workshops. Our special guest instructors are renowned experts in a variety of dance styles and dance topics. Below, we feature a few of our recent and upcoming special guest instructors.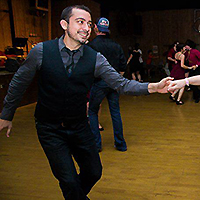 Instructor, Tom Blair, is a cornerstone of Tampa Bay's Lindy Hop and Balboa dance scenes. He organized The Lindy Connection dances, writes the Lindy Hop Weekly blog, and is a regular teacher and DJ at events across the area. He's traveled and dabbled in competition, but his main focus is sharing his love of social dancing to swinging jazz music. He believes that there's something unique and amazing that happens when two people transform these sounds into movement, and wishes to share this feeling with everyone.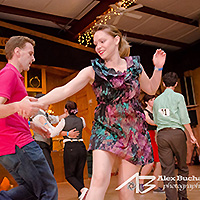 Instructor, Andrea Kugelman, has been Lindy Hopping, Collegiate Shagging, and Balboa Dancing for over 10 years, traveling, dancing, studying, and competing at major swing-dance events across the USA. In her travels, Andrea has won more competition awards than probably any other swing dancer in Tampa Bay. Andrea was a founder of the Lindy Connection group, and a founder and choreographer for Hit That Jive dance team. In 2010, her dance team and choreography won 1st place at the Swing Dance USA competition.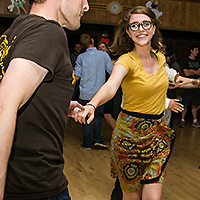 Instructor, Aryn Kelly Rathbone, is a long-time lover of jazz who first became enamored with swing dancing in 2012 when she realized it meant she could dance to Duke Ellington; and she hasn't looked back. In the classroom, she values technique-oriented instruction for followers and leaders, empowering students to own their learning experiences. Aryn has attended numerous national dance events for both Lindy Hop and Balboa. She has competed and placed in several Southeast regional events, including Bal-Ast Off!, Southern Swing Challenge, and Atlanta Varsity Showdown. In addition to studying and teaching dance, Aryn also enjoys DJing for dancers.

Swing Time's instructors teach the most popular and well-attended swing-dance classes in the state of Florida! They also produce the biggest swing events in the state, and have been doing so for the last 15+ years. Whether it's a group class or a private lesson, Swing Time provides an innovative and easy-to-learn approach.