Swing Time! Florida's Premier Swing Dance Events
---
WEST-COAST SWING DANCE LESSONS
All Lessons 1-Hour ...taught by Tampa Bay's Best
All Lessons FREE ...with Paid Admission to Event
No Partner Needed No Prior Experience Needed
All Levels Welcome! All Ages Welcome!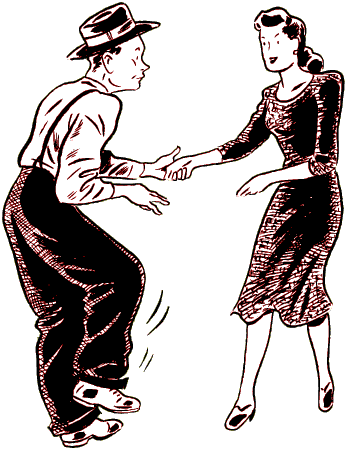 West-Coast Swing is a versatile partner dance, done to a variety of music from retro to modern, and perfect for dancing at nightclubs, dance halls, and competitions. West-Coast Swing evolved from the Lindy Hop of the 1930's (brought to L.A. by Dean Collins) and the dance has kept evolving to this day. Unlike many of its cousins that came and went, West-Coast Swing has enjoyed popularity in every decade from the 40's to the present, because the dancers kept matching it and evolving it to the music of the time... from the Big-Band Jazz of the 40's, to the Rock & Roll of the 50's & 60's, to the Funk & Disco of the 70's & 80's, to the Country-Western of the 90's, to today's Hip Hop, Techno, and Pop beats.

Today's West-Coast Swing is a smooth, slotted (linear), sophisticated, and sexy dance, perfect for slow- to mid-range tempos with solid beats. At the beginning level, dancers learn a variety of 6-count and 8-count patterns for West-Coast Swing AND that can be incorporated into other dances. At more advanced levels, dancers match the intricate beats, sub-beats, and nuances of the music with sophisticated styling and movements. Apart from social dancing, West-Coast Swing is currently popular among dance competitors, offering an abundance of competition opportunities.

Our West-Coast Swing classes are designed for everyone, from novices who've never danced before, to experienced dancers who've been dancing several years. There are no prerequisites, so anyone can drop in and take them. All classes stand on their own; you need not take one to take any of the others; but the more you take, the better your dancing will be! No partner is needed.

WHEN & WHERE:
Click Here for Schedule of Upcoming Classes
---
© All contents of this web site (www.SwingTime.info) except where otherwise stated are Copyright 2000-2019 Swing Time with all rights reserved
---