Swing Time! Florida's Premier Swing Dance Events
---
TRIPLE-TIME SWING DANCE LESSONS
All Lessons 1-Hour ...taught by Tampa Bay's Best
All Lessons FREE ...with Paid Admission to Event
No Partner Needed No Prior Experience Needed
All Levels Welcome! All Ages Welcome!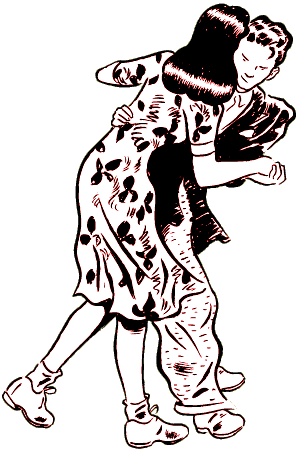 Kick your dancing up a notch with Triple-Time Swing! Triple-time swing forms the basis for most advanced swing dancing (including Lindy Hop, West-Coast Swing, European Boogie Woogie, Ballroom Jive, and Advanced East-Coast Swing, to name a few), for the simple reason that if you add more steps, you can perform more intricate moves. But triple-time is not just steps; it's a whole new attitude of dancing! In these classes, we focus on movement. We show you how to easily impress your partner. We show you a variety of more advanced and sophisticated six-count moves. We work on improving leading and following skills. Our overall goal is to raise your dancing to the next level!

Our Triple-Time Swing classes are designed for everyone, from novices who've never danced before, to experienced dancers who've been dancing several years. There are no prerequisites, so anyone can drop in and take them. All classes stand on their own; you need not take one to take any of the others; but the more you take, the better your dancing will be! No partner is needed.

WHEN & WHERE:
Click Here for Schedule of Upcoming Classes
---
© All contents of this web site (www.SwingTime.info) except where otherwise stated are Copyright 2000-2019 Swing Time with all rights reserved
---